Updates
June 18, 2020
Karen L. Seder D.D.S., MS
We hope that you and your families are doing well and staying safe. Hopefully starting to find some normalcy in our new normal.
We are doing our best to contact all our patients that need an appointment. If we have not yet reached out to you, please feel free to call or email the office at this time.
For now, as we reopen, we are working a different schedule than our normal hours. This schedule may change as circumstances change, however, for now we are here Monday thru Thursday (as always, someone is in the office for emergencies on Fridays) from 9:50AM—3:00PM, with the last appointment scheduled at 2:30. We are doing our best to stagger appointments and patient arrival times to help ensure your safety.
We will continue to have a patient health screening in the lobby which consists of a quick questionnaire, temperatures taken using a no-touch thermometer (temperatures over 100.4, appointments will need to be rescheduled) , and swishing with an antiseptic mouth rinse. Currently, we are only allowing patients in the office as we are trying to limit the number of people in the waiting room. We ask parents to wait in their cars during their child's appointment.
Parents, if Dr. Seder needs to communicate with you she will do so at the end of the day via phone or email. We have been sending kids up with a note as to what was done at their appointment trying to update you on what was done. If immediate attention is needed, we will call you and in some cases have you come down (you will be screened as well). Kids have been doing great coming and going on their own!
Some things we have done for your safety:
Barriers between chairs to improve social distancing between patients: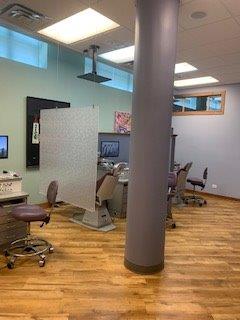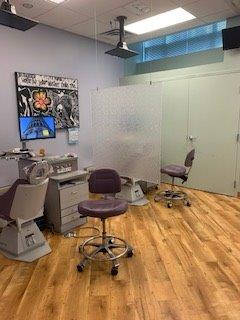 We are wearing our faceshields: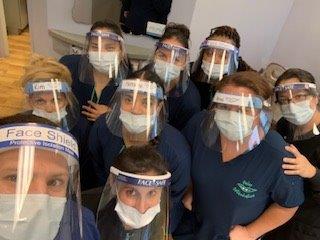 We have installed a commercial grade needlepoint bipolar ionization unit attached to a new HVAC unit to both purify the air and eliminate airborne particles and pathogens.
Lastly, we have made the consult room a fully functional room, enabling us to do certain procedures in an enclosed room.
We hope that the measures we have taken provide piece of mind while allowing us to continue to provide the excellent service you are accustomed to receiving.
Our Office's Safety Precautions
To help prevent the transmission of all respiratory infections, including COVID-19, we adhere to standardized infection control measures, such as performing hand hygiene, providing tissues and no-touch receptacles to throw away used tissues, and offering facemasks to patients who are coughing. We follow routine cleaning and disinfection strategies, using cleaners and water to pre-clean surfaces prior to applying an EPA-registered, hospital-grade disinfectant, as well as appropriate sterilization of all tools and equipment. We also use new facemasks and gloves for each patient per guidelines set by the FDA and CDC.
While our office already adheres to these standard precautions, there are several common sense recommendations we are implementing to prevent the spread of COVID-19.
Screening patients for signs or symptoms of infection when we update their medical histories.
Making sure our masks, gloves, and eye protection are appropriate for the procedures performed.
Cleaning and disinfecting public areas frequently, including door handles, chairs, and bathrooms.
If you have an appointment scheduled within the next few weeks, please contact our office if you experience any of the following:
Fever
Cough
Shortness of breath
Travel within the past 14 days to affected geographical regions
We will discuss your health status, the dental treatment you require, and whether or not visiting our office will be safe for you, our other patients, and our staff.
When you visit our office, we ask that you arrive on time for your appointment, rather than too early. This will minimize the amount of time you spend in our waiting room or reception area. If you have respiratory symptoms, we will ask that you wear a facemask.
How can you prevent contracting or spreading COVID-19?
Wash your hands frequently with soap and water for 20 seconds. If you don't have access to soap and water, use alcohol-based hand sanitizer.
Maintain at least six feet of distance between yourself and anyone who is coughing or sneezing.
Avoid touching your eyes, nose, and mouth.
Cover your mouth and nose when you cough or sneeze. Do not use your hands.
Stay home if you feel unwell. If you have a fever, cough, or difficulty breathing, seek medical attention and call in advance. Calling in advance will allow your healthcare provider to quickly direct you to the right health facility.
If you would like more information about our office's dedication to your health and safety, please give us a call. For more information about what you can do to prevent the spread of COVID-19, please visit the World Health Organization website.